I'm Maurice Cardinal
(that's me in the video).

In 2006 I wrote and published
Leverage Olympic Momentum,
a popular book designed to teach business leaders how to capitalize on events in their communities.

My innovative process was a turning point in promotion that companies like lululemon and Scotiabank leveraged very effectively.

The Olympic-related special events strategies I developed over a seven year period have been adapted to work for almost any business anywhere around the world.

Throughout my ten year Olympic journey I learned that C-Suite executives often hesitated to capitalize on fleeting opportunities because they didn't feel as comfortable as younger colleagues who used social media. It holds true today.

Today, business is about transparency, and so is social media. Consequently, if you're not using social media, your clients and customers might very well wonder what you have to hide.

The reality is that everyone is intimidated by the complexities and rapid changes of social media, but senior executives especially hesitate to ask for assistance because they fear it will make them look incompetent.

It's exactly what their younger colleagues want them to think.

My private workshops and training sessions get you up to speed quickly and alleviate stress immediately.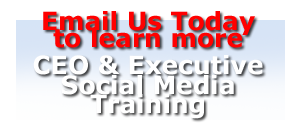 Iíll show you how to oversee a social media campaign, and to choose the right team members to make it work. Iíll show you which tools are the most effective, and steer you clear of time wasters. Iíll train you to know what type of content works best for you, and whether to create it in-house or outsource, plus, where to place your content.

Iíll teach you how to leverage energy so your content rises to page one on Google. Most companies, even the largest donít do everything in-house because it would be impossible to keep up with trends, and in the trendy social media world, subtle nuance is critically important. Being perceived as out of the loop is dangerous for CEOs who are already struggling to improve their visibility, credibility, and trust.

You donít get to do ďDo OversĒ in social media. United Airlines proved that not knowing how to manage social media has a serious impact on share prices and customer allegiance. CEOs simply cannot afford to make mistakes, but also cannot afford to NOT be in the game.

My name is Maurice Cardinal - that's me in the video ... Iíve helped a wide variety of corporate executives become better communicators for over two decades. Contact me and letís talk about how I can help improve your social media presence. Email ... or call (604) 560-4419

I can help you more clearly understand:
LinkedIn : BLOGS : TWITTER : YouTube

I work with small teams and large groups.



Here's a short list of CEOs and business owners of "traditional businesses" who use social media because it works. You can easily join all their SocMed communities for free, tapping into what they share in real time, and hear about it at the same time the NY Times hears about it.

Richard Branson
(FYI - #1 LinkedIn player)

Mary Barra General Motors
Elon Musk Tesla Motors
Marillyn Hewson Lockheed Martin
Paul Polman Unilever
Jeff Immelt GE
Doug Conant Campbell Soup
Gary Kelly Southwest Airlines
Peter Guber Mandalay Entertainment
Peter Aceto Tangerine
Arne Sorenson Marriott
Am Molinari Johnson Controls
Harriet Green Thomas Cook
Helena Morrissey Bank of NY Mellon
Jean-Pascal Tricoire Schneider Electric
Mark Bertolini Aetna
Xavier Rolet London Stock Exchange
Steve Easterbrook McDonalds
Warren Buffett Berkshire Hathaway