Solutions to Help You Leverage Olympic Momentum

Managing an Olympic contract is much harder than most think.



It's no secret VANOC is cash-strapped and in dire financial straits.
They can't pay workers and are begging local businesses to bail them out.

It's noble to want to help, but realistically, unless you can afford to align with a struggling organization in these tough economic times, tread carefully and resist rash decisions.

The reality is that cash strapped Olympic organizations are quite common. The last four Olympic Games had huge deficits that crippled the regions and local companies - in non-recession times.

The IOC offered to cover Vancouver's deficit, but that doesn't help us now, and besides, respective of the qualifier the IOC put on the offer, it's like saying "Your check's in the mail" It is also highly unlikely the IOC will have cash to spare to cover our deficit considering they recently lost four major sponsors; Kodak, Lenovo, Manulife Financial, and Johnson & Johnson.

On the upside, because running in the red is common for the IOC it means others have developed solutions to help businesses manage Olympic relationships, but you have to know WHERE to look.

You also have to know HOW to manage solutions ... we can help - contact us

If you are unsure about landing a VANOC CONTRACT, but still want to
leverage Olympic momentum in 2010 Vancouver & Whistler »» click here


And if you're still interested in landing a VANOC contract ... keep reading.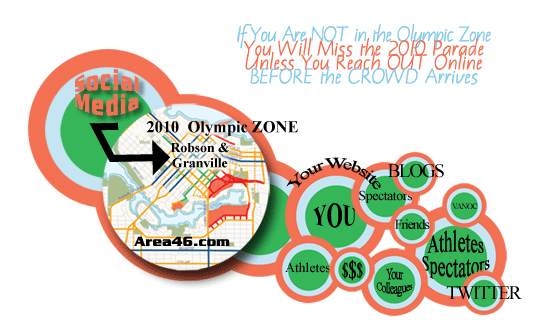 Here's what Olympic organizations don't want you to know ...

Even if you have a fully executed Olympic contract, VANOC does not have a responsibility to help you manage your obligations. It is up to you to play the game well and remain profitable, or at the very least leverage your affiliation in order to raise the visibility of your company, which is harder to do than most think.

VANOC and the IOC rarely promise that contracts with them will be profitable, in fact they will probably warn you up front your contract will not generate revenue directly.

The reality today is that VANOC is cash-strapped, which means they have zero funds to help you. They can't even afford to hire the required workers to make 2010 happen smoothly.

If you don't understand the clandestine IOC rules and culture you will
undoubtedly place yourself and your company at a serious disadvantage.

For starters, even though VANOC might not provide everything they initially promised, like paid help, YOU, will still have to live up to your end of the agreement. Do thorough research to learn what kinds of financial liability companies just like yours have been subjected to at past Games.

Even considering all this, in some cases it can still be a good thing to land an Olympic contract, but if you do, it doesn't mean you have to roll over and offer yourself up for sacrifice.

Learn to play the game to win. Patriotism is noble, but it won't cover payroll.

The more you know about how Olympic organizations really operate, the better you will be able to position your company during what is always a very chaotic and expensive ride.

You can start by reading our book, Leverage Olympic Momentum, and
then call us for advice to help you make your Olympic experience profitable.

Do not go into 2010 blind, or do it alone.
And whatever you do DO NOT SIGN even
the most inconsequential document
without exhaustive due diligence.




Retailers, Manufacturers, & Suppliers

If you sell products and services DIRECTLY to Olympic organizations, their Sponsors and Affiliates, Athletes, and Spectators, you must clearly understand your options and know where you fit into the hierarchy.


If you expect to profit, you need to know the
written and unwritten culture and rules.





You will also need trusted partners, and we'd like to be one of them.

Talk to us before you talk to them . . . 604.560.4419
Retailers & Restaurateurs
have tremendous opportunity, and some are already quietly capitalizing on it, but unless you take proactive steps to leverage the momentum it will pass you by. Just because you have an Olympic contract doesn't mean VANOC or the IOC are your friends. You work for them, which, in this cash-strapped time for VANOC, makes your relationship harder to manage than you think.

The solution, fortunately, is relatively simple ... Good Research & Good Advice

Even if you land an Olympic contract, you would be well advised to also reach out online through your website to Olympic Athletes, their Entourages, and Sports Spectators, and make sure they know you and your products and services exist.

Historical data indicates customers don't easily find neighborhoods outside the Olympic Zone, which means most retailers won't experience the big crowds that will roll through very select areas of our region in 2010 ... the secret is to reach out before they arrive and entice them with unique offers.


You need to do only two things to promote yourself to
Olympic athletes, their support teams and spectators.

The first is to make sure your website represents you in the best possible light,
and the second is to reach out via Social Media through Blogs, Twitter & Video.

Make Olympic Athletes & Tourists offers they cannot resist.

Olympic regions are extremely chaotic, and get more so as the big event approaches.

Twitter is a fast growing and powerful online tool to keep customers apprised daily of your offerings, and when you combine it with short video clips on a blog it can raise your visibility and quickly set you apart.

Tread carefully here though because social media is not for everyone.

Your company can also QUICKLY tap into the 2010 Olympic stream by advertising on websites that target Olympic crowds. All you have to do is create a simple ad and link it back to your website. It is incredibly easy, cheap, and effective to manage.

2010 will be nothing like Expo '86 ... Olympic crowds rush in, jump around in a frenzy, and leave as fast as they arrived. If you're not ready, the whirlwind opportunity passes right by and you miss the big payoff. People will be here to PARTY!

So ... if you still want an Olympic contract, learn as much about IOC culture before you apply. Read our book, and if you still need advice - contact us ... 604.560.4419

Learn more RIGHT NOW about 2010 Olympic crowds
and their idiosyncrasies here ... a 2010 Case Study
Our Media CLOUD
a short list of NEWS MEDIA who have covered our Olympic story

Grocer Today - Retail Opportunities
BC Business - Construction
ESPN - Overrun Costs
Globe & Mail - 2010 Tickets
Globe & Mail - Business
Seattle Times - 1 Year to GO!
Business Edge - Strategies
CityTV - Leverage The Games
Wired - Social Media
*
Private Consulting & Workshops - One Day Sessions to get you up to speed quickly
Areas of expertise:
Branding ¤ Promotion ¤ Licensing ¤ Sports ¤ Entertainment ¤ Media Communications ¤ Technology ¤ Merchandise ¤ Real Estate ¤ Construction ¤ Hospitality ¤ Transportation ¤ Recreation ¤ Environmental ¤ Relocation ¤ Waste Management ¤ HR ¤ Labor Relations ¤ Aboriginal ¤ Event Planning ¤ Conventions ¤ Social Networking